The wide range of flood protection systems may initially confuse those looking for specific solutions, whether simple or complex. This is why we wanted to create a simple guide that helps those who want to protect homes, shops, offices and locations such as garages, depots, basements, and gardens from flooding choose the most suitable Acquastop panel for their needs.
COMMON PROBLEMS
Width of the opening to protect – In buildings such as homes, offices, and shops, the areas to be protected are usually not very wide. These are doors, gates, and windows that can be secured using a single panel in most cases. If, however, the width is over 3 metres, one or more panels must be combined (as we will see later).
Permanent building interventions – Major problems are encountered in the case of flats or shops located in historic town centres, villas, prestigious buildings, and, more generally, in all those situations where it is not possible to intervene on the building by inserting fixed guides or profiles or by carrying out masonry work due to urban planning restrictions or for architectural/aesthetic reasons.
Positioning of the panel – Some people find panel positioning difficult, both for barrier management and application speed. In adverse weather conditions, this operation can be problematic for anyone, especially for the elderly, children, women, and anyone who is not strong or has limited mobility. This aspect becomes even more critical in those areas subject to frequent flooding where protections must often be placed and removed.
Irregular support walls – Other relatively common complications occur when there are no regular support surfaces. Shaped or off-axis profiles require specially designed supports, which can only be produced by specialised technicians.
ACQUASTOP CLASSIC®
FUNCTIONAL RAPID APPLICATION FLOOD PROTECTION PANEL
Acquastop Classic® is the line of flood protection panels specifically designed to protect houses, garages, villas, shops, and gardens from floods. The lightness and patented EasyStop® positioning system mean anyone can position the panel quickly and correctly. Once placed on one side of the opening, this system allows the barrier to be extended, covering the entire opening and correctly compressing the gaskets.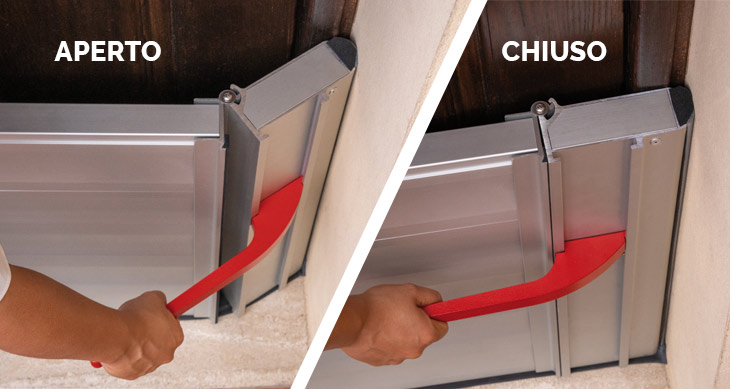 This barrier is also innovative because it does not need fixed profiles. The absence of guides and permanent masonry work preserves the building's appearance and eliminates the risk of injury. Many attempts have been made to imitate this unique feature.
Acquastop engineers can produce shaped profiles that fit the building perfectly and guarantee maximum water tightness for off-axis or uneven support walls. The profiles can be removed along with the barrier at the end of the emergency.
Classic panels are custom made. Where the flood front is more than 3 metres wide, removable posts are fitted to allow several barriers to be joined together, creating a large protective front.
Acquastop Classic flood protection panels are aesthetically pleasing. The brushed finish, corrugated panel, and precise construction allow the barriers to fit attractively into any architectural context, and they can be finished in various colours.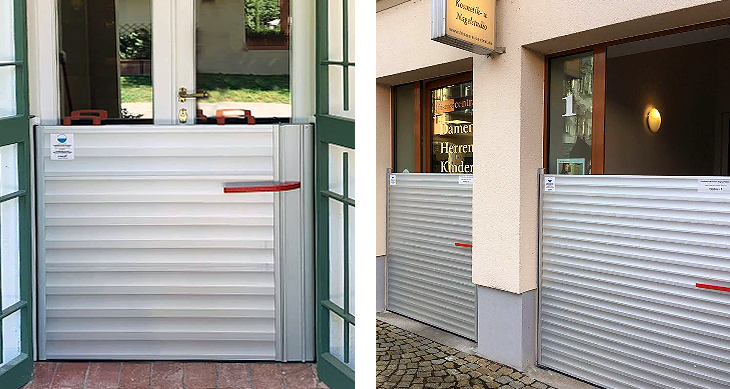 ACQUASTOP EXTESA®
ADJUSTABLE WIDTH FLOOD PROTECTION PANEL: DIY INSTALLATION!
Extesa® has the same features and qualities as the Classic line but is width adjustable. This barrier is an absolute innovation because it allows autonomous adjustment of the protection size without the need for professionals or specialised installers.
Adjusting the panel is quick and easy. These aspects have made the Extesa® DIY flood protection panel one of Acquastop's most requested products.
Extesa® also features the EasyStop® positioning system that simplifies positioning and removal operations.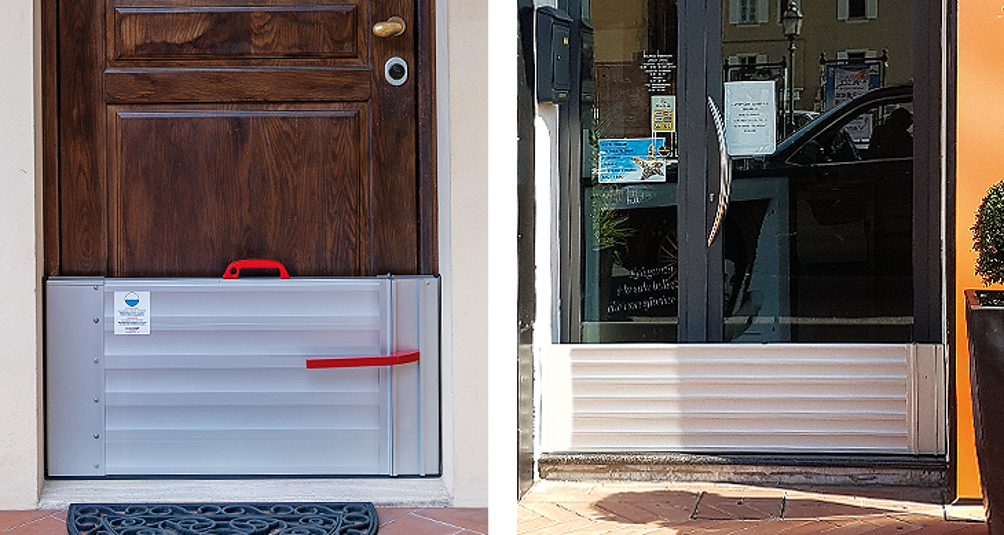 ACQUASTOP CLASSIC SWING®
FLOOD PROTECTION GATES
Classic Swing® is Acquastop's solution to permanently protect locations from flooding. They are flood protection gates that prevent the need to continuously place and remove the panels. They are ideal for areas subject to frequent flooding but are also helpful for buildings inhabited by individuals with movement difficulties. Situations in which positioning panels could represent serious difficulties.
Classic Swing gates are also equipped with the EasyStop® closing and locking device that allows anyone to enter or exit without difficulty. This patented system also allows the gates to open inward, avoiding encroaching on the space outside the property.
Classic Swing gates are also made with a double door when the opening is large or in situations in which it is more convenient to have a double opening, as in the case of frequent pedestrian crossings.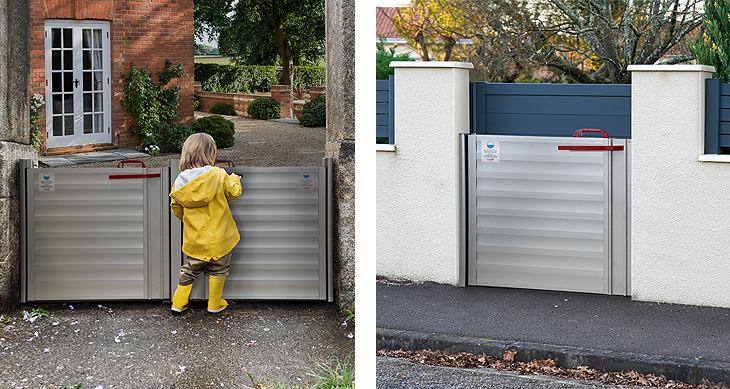 ACQUASTOP INTEGRA®
INTEGRAL LOCATION PROTECTION
Integra panels are designed to protect locations that could become submerged entirely due to their location. This can include basements, underground locations, tanks, warehouses, and underpasses, with the need to protect doors, windows, window wells, and aeration grates.
Integra panels cover the entire access area, hermetically closing entry to the location. They are placed and removed like a normal flood protection barrier.
Integra also comes in the Swing version, a proper flood protection door equipped with hinges and a lock.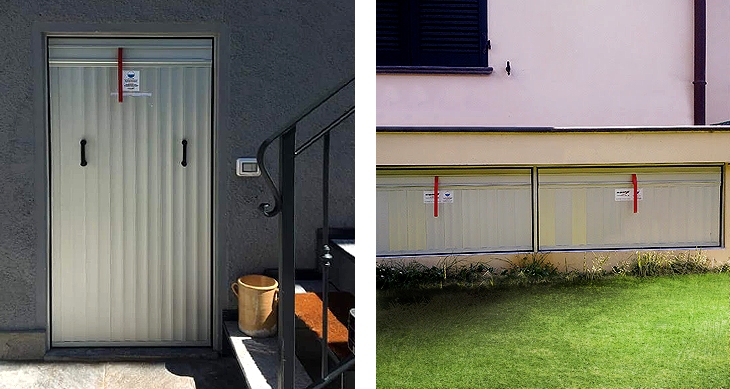 Each Acquastop® line of flood protection panels has unique features designed to effectively respond to problems and specific needs.
Each access to the home presents different critical issues, so it must be analysed and resolved individually, using the most suitable products and respecting all the safety and practicality of use parameters. Therefore, it is essential to always request an inspection by a qualified expert who will analyse the situation and propose the most appropriate solution. Acquastop technicians are trained and able to find standard or customised solutions to even complex problems.
If you would like more information on our products and services, call us at 0587 617587 or write to us.
Would you like an estimate? Fill out the form to receive an evaluation.
Acquastop® panels were subjected to demanding tests by the Giordano Institute, the most authoritative organisation in the industry.
Acquastop Classic® and EasyStop® are patented systems.