Tempo di lettura:
3
minuti
Like other residents of Wamme, the sports centre of the Belgian football club FC Bande was severely impacted by the floods of 14 July 2021, which heavily damaged the ground and the bar. Today the club looks to the future. The city recently completed the installation of the flood protection system performed by Point Technique, the Acquastop distributor for Belgium.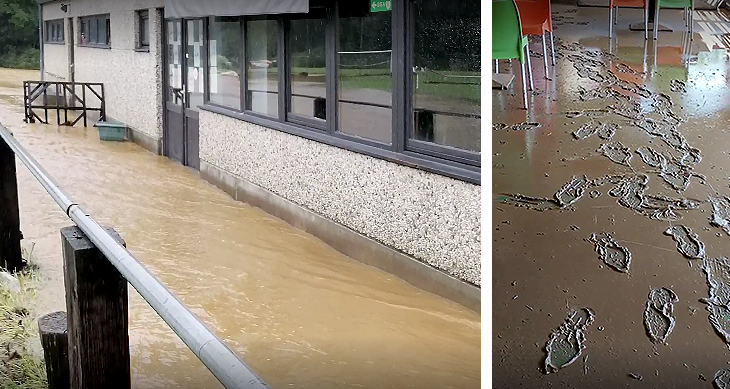 "We have installed a series of perfectly impermeable panels produced by Acquastop, an Italian company specialising in the protection against flooding," explained Fabrice Poncelet from Point Technique, the official Acquastop® distributor for Belgium.
"To define the height of the barriers, it is important to find the perfect compromise between the water level the customer wishes to protect against and the resistance capacity of the building's walls to the pressure to prevent the building from collapsing. At FC Bande, we agreed with the municipality to install a barrier of almost one metre, about the height of the building's windows."
Various companies competed for the work, but in the end, this Italian system was chosen for its efficiency and ease of use.
"The installation was overseen by the municipality, but it is the building director who positions the panels in the event of a risk of flooding," explained Stéphane Piérard, Director of Works for the municipality of Nassogne.
"This is the first time the municipality is taking action to protect buildings from flooding. Interested private individuals will have the opportunity to see this system at work here in Bande. We will also install it in the football field in Forrières," commented Mayor Marc Quirynen.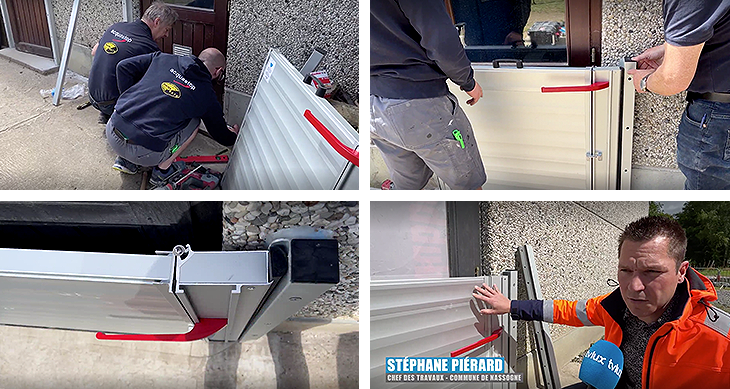 The panels installed by Point Technique are from the ACQUASTOP CLASSIC® line, functional and quick-installing barriers specifically designed to protect houses, garages, villas, shops, gardens, and even large buildings such as companies, sports arenas, and shopping centres from flooding.
Thanks to EasyStop®, the exclusive, patented positioning system, these panels can be set up quickly and correctly by anyone. Once placed on one side of the opening, this system allows the barrier to be extended, covering the entire opening and correctly compressing the gaskets.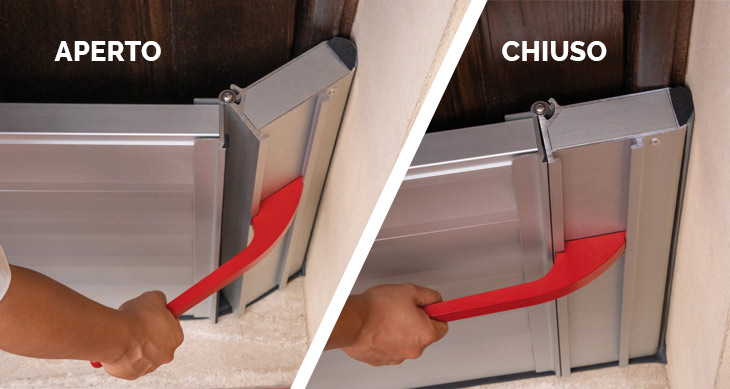 After the flood of July 2021, demand skyrocketed, particularly due to recommendations from insurance companies. In Luxembourg, Point Technique now has customers in Nassogne, Rendeux, La Roche-en-Ardenne, and Barvaux.
Remember that every line of Acquastop® flood protection panels has its own characteristics designed to respond to specific problems and needs effectively. Therefore, it is essential to always request an on-site inspection from one of our qualified experts, who will analyse the situation and propose the most appropriate standard or customised solution to even complex problems.
If you would like more information about our products contact us.
Do you want a quote? Fill out the form to receive an evaluation.
Acquastop® bulkheads have been subjected to severe tests by the Giordano Institute, the most authoritative body in the sector. Acquastop Classic® and EasyStop® are patented systems.