The best flood barriers for protecting
churches, museums and period buildings.
Acquastop® barriers are the ideal solution for protecting prestigious period buildings such as churches, museums and old buildings.
Acquastop® flood barriers are in fact the only barriers that do not require guides, profiles, holes for fixing, columns or civil works, as they rest directly against existing walls next to doors and windows. This means that no invasive or permanent works are necessary.
We design personalised solutions for any access point
Acquastop® has always been characterised by its ability to identify efficient solutions in situations where the need to protect valuable buildings has been faced with technical and aesthetic challenges in order to protect the building itself.
With the use of modern technology, the creation of new manufacturing solutions, and thanks to thirty years of experience, we have safeguarded numerous period buildings and structures while respecting the demands and existing parameters of these special projects.
Modern technology to safeguard history
We carry out inspections and study personalised solutions on the basis of the type of building and the problems identified. Thanks to the use of laser equipment and dedicated software, we carry out extremely precise studies of the columns and other architectural elements that characterise the entrances of period buildings of particular value such as churches, museums, monuments, castles, period homes and buildings in historic centres.
On the basis of these studies, we create flood barriers that are tailor-made, and removable struts that are shaped to the profile of the elements making up the entrance, without carrying out permanent interventions on the structure or inserting permanent elements.
Quick and easy to apply, thanks to the
EasyStop® system!
Acquastop Classic barriers are characterised by the patented EasyStop® system, which simplifies positioning and allows the barrier to extend, creating the necessary level of pressure on the seals. Thanks to the tailor-made shaped struts, the barrier adapts perfectly to the access point, guaranteeing watertightness without the need to install profiles or carry out permanent civil works.
The barriers can be quickly removed with the same ease that they are put into place.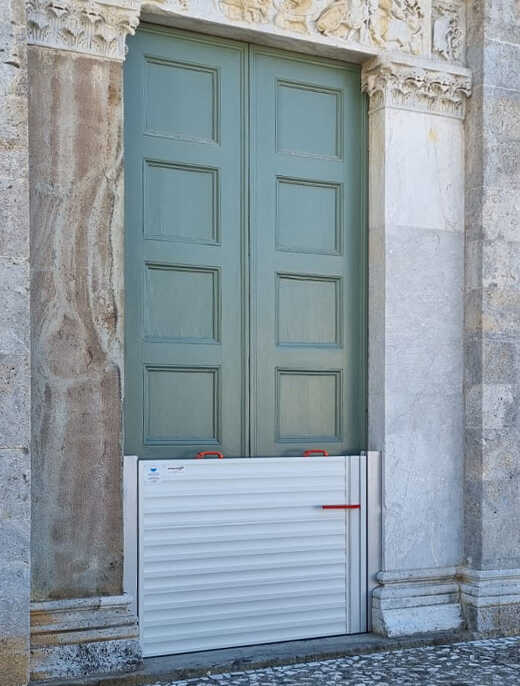 Flood protection for any building or property
Acquastop® barriers can provide protection for structures with many access points, even very wide doors, and completely seal off basement areas.
Our expert technicians carry out inspections, assess critical aspects and develop personalised solutions.
include('box/richiedi-preventivo.php'); ?>