Flood barrier
functional and quick to apply.
Acquastop Classic is a line of easy to install professional flood barriers. These are removable flood barriers that can be applied by anyone in just a few seconds, whenever necessary.
Whether you are forced to move away or remain inside the house, Acquastop Classic is a flood defence system that allows you to remain worry free, even in the event of prolonged rainfall.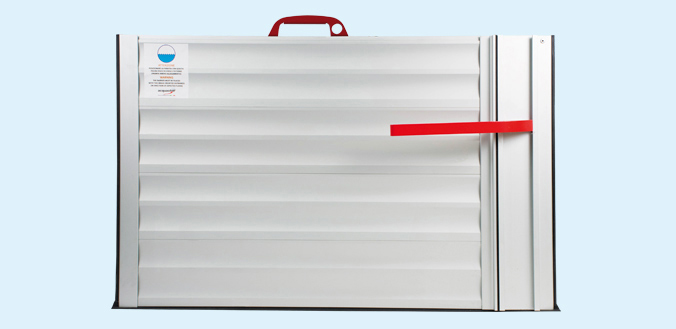 Tailor made
The Acquastop Classic flood barrier is tailor made to the frame of the door, front door, garage, warehouse entrance, shop entrance or any other access point at risk.
Acquastop® carry out an inspection, identifying the access points to be protected in order to ensure the building is secured, and take the necessary measurements. Once this is done, the barrier or barriers necessary to safeguard the property are designed.
Each barrier is therefore made specifically for a determined opening, to the precise length and height necessary, guaranteeing the utmost resistance to water infiltration.



Safe, certified and patented barriers
Acquastop Classic is a line of high-performance flood barriers, and the result of almost thirty years of experience and constant research into improvements and innovation. Strong and reliable products made in accordance with best practices and with top-quality materials and designed with features that render them unique.
Classic barriers undergo the most strenuous testing by the Giordano Institute, the most important independent Italian body.
Acquastop Classic is a patent product that has many imitators, make sure you ask for original Acquastop® products.

Quick and easy to apply
with the EasyStop system!
The exclusive EasyStop system allows the barrier to be positioned quickly and precisely. The particular rotate and lock system allows the barrier to be extended, placing force on the seals and ensuring watertightness. Anyone can position and remove the barrier with ease, ready to be stored and used whenever necessary.
EasyStop is a system developed and patented by Acquastop®, beware of imitations!
Does not require guides
Acquastop Classic does not require guides, profiles, holes for fixing, columns or civil works, as it rests directly against the wall, adjacent to the access point.
This unique characteristic offers two advantages: it eliminates the risk of injury caused by metal profiles that are generally fitted to access points, and it requires no technical work to be carried out on the building, maintaining its value and leaving it unspoiled

Ideal for the home, perfect for businesses,
shops and shopping centres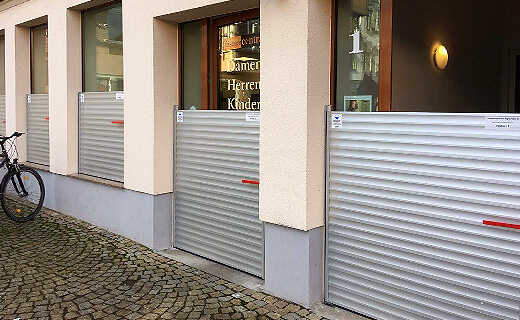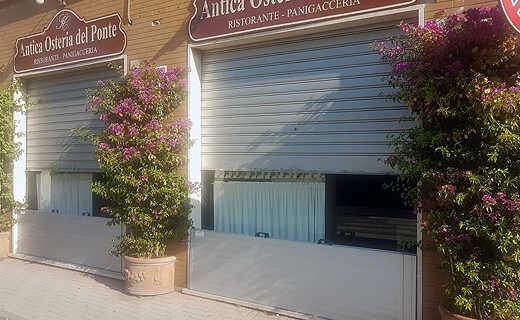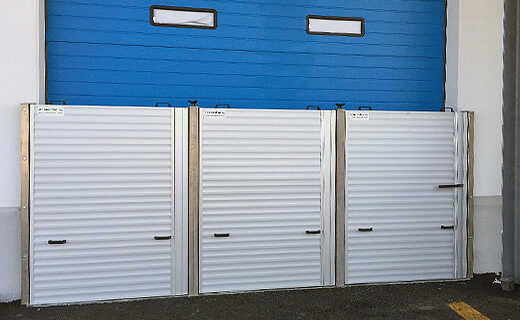 Acquastop® Classic is a line of versatile flood barriers that adapt to any building.
Their light weight, rapidity of installation and absence of profiles makes them perfect for protecting homes, villas and private houses. They can be positioned by anyone in just a few seconds, providing efficient protection for gates, front doors, garages, windows and basements.
Acquastop Classic is able to protect shops, warehouses, companies, offices and shopping centres. With structures that have numerous access points, rapid deployment of barriers becomes a fundamental aspect, because it reduces both the time necessary to secure the building and the time required to remove protection once the alert is over.
The brushed finish, the corrugated front panel, the possibility to finish the barrier in a range of colours and the precise fit renders Classic barriers attractive..
The barriers can be made to a length of up to 3 metres. When the space to be secured is wider than this, it is possible to link a number of barriers together via a special removable stanchion, creating larger barriers..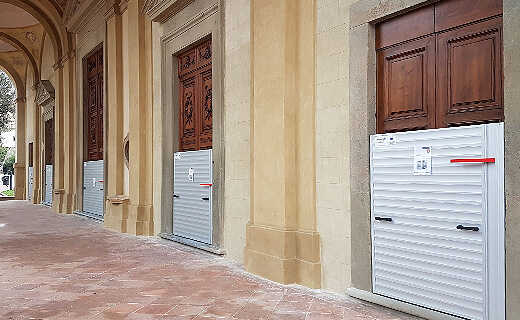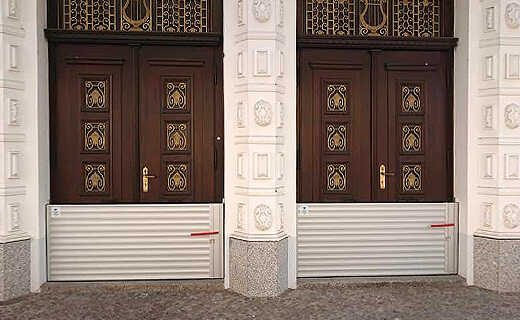 The flood protection solution for all situations
The absence of guides avoids creating a negative impact on the building, and this is why the Classic line is the ideal solution for protecting period buildings, prestigious structures or elaborate architecture.
Classic barriers can also be applied in particular conditions, such as profiles that are not square, variable depths or non-linear contact walls. In these cases, Acquastop technicians will design appropriately shaped struts and specific solutions in accordance with the problems encountered.
include('box/richiedi-preventivo.php'); ?>